Jamie's Garden of Friendship Dedication Pages
[ Home ] [ Page One ] [ Garden of Friendship Activities Page ] [ G of F Charms Page ] [ Garden Gifts ] [ Happy First Birthday Garden of Friendship ] [ Happy 2nd Birthday - GOF! ] [ Special Friends ] [ Squeak's Ladies ] [ Portraits of IF25 Friends ] [ GOF Banner Exchange ] [ GOF Causes Page ] [ Web Rings ] [ Garden of Friendship Welcome Gifts ] [ GOF Awards Page 1 ] [ Surprise Angel's Gifts Page ] [ Whispering Angel ]
[ Activity Information ] [ Card from Karma ] [ GOF - First Birthday - Gifts Page 1 ] [ GOF - First Birthday - Gifts Page 2 ] [ GOF - First Birthday - Gifts Page 3 ] [ GOF - First Birthday - Gifts Page 4 ] [ GOF - First Birthday - Gifts Page 5 ]
Happy Anniversary Garden of Friendship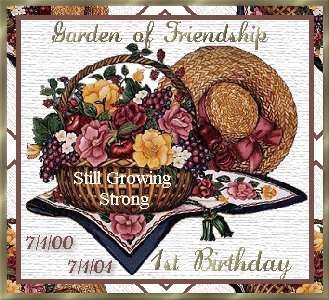 On July 1, 2001 The Garden of Friendship was One Year Old!!

A Message from Founder - Deelight:


Hi Ladies and Gentlemen,

With our First Anniversary coming up, I wanted to write a letter to everyone. I can't tell you how excited I am about this. I'd like to tell you a little bit about how the Garden of Friendship got started.

About a year ago, I was a member of several other groups and found that although I belonged to the groups, I didn't really feel as though I belonged, and certainly wasn't making any friends. It was then that I decided I wanted to do something different, and hence, the Garden of Friendship was formed.

The Garden of Friendship has seen many changes since July 1, 2000. We have taken on a whole new look with new graphics. We have added new committees, formed many friendships that will last a life time, shared hardships and life's successes with one another, and grown to a membership of over 200 members.

Initially, there was myself and two other co-founders. One of the Co-founders had to leave shortly after we debuted due to medical reasons and the second left in January. At this point, I was crushed. I had no idea what to do but knew in no way could I run this show on my own. It was then, I turned to one of the close friends I have found in the Garden and formed the Garden Keepers. I no longer consider myself a co-founder. I guess now, the best way to describe my position is webmistress and owner of the Garden of Friendship, as well as Garden Keeper.

There are eight Garden Keepers in the Garden who all work together along with a team of Committee Leaders and Assistant Committee Leaders (and of course a judge in our midst) to keep everything running smoothly.

If you have any questions or concerns about the Garden, please feel free to email me at any time. admin@gardenoffriendship.org

I'd like to say thank you to everyone for the part you play in making the Garden of Friendship what it has become. You have helped make my dream a reality. With our 1st Birthday/Anniversary approaching, we have formed a Special Birthday Bash Committee to help plan a week filled with fun and games. If you would like to help plan the party, please email either Mary (mary@gardenoffriendship.org) or myself (deelight@gardenoffriendship.org)

For those of you who are not aware, I was in a car accident in January and suffered a fairly severe whiplash injury. I have suffered quite a bit through this and at times have considered taking a LOA, but have not had to as of yet. Things are looking up now and it looks like they have found the road to recovery, although it's a long one. I'd like to apologize on this note, because sometimes I fall behind on things and it takes me a few days to catch up. If you don't hear from me when you write, don't assume I have forgotten you, just please bear with me. I feel terribly guilty about falling behind like this from time to time, but sadly, it can't be helped. :-(

I'd also like to voice a concern for something. My Garden name is Deelight and I often sign my real name, simply Dee. I am terribly guilty of this and I do apologize. I started getting worried when I was signing email to customers from the office, Huggers, Deelight. :-(


If you have any ideas for ways we can improve the Garden, please don't hesitate to drop me a line. I'd love to hear from you. We have some great new features being added to the Garden so please stay tuned. :-) You can reach me at: admin@gardenoffriendship.org or deelight@gardenoffriendship.org

I'd also like to list the other Garden Keepers and say a special thanks to them. Without them, I could never have come this far. These ladies are all available to help you any time you need them.

Valatine - val@gardenoffriendship.org
Stargazer - stargazer@gardenoffriendship.org
Squeak - squeak@gardenoffriendship.org
Mary - mary@gardenoffriendship.org
Denise - denise@gardenoffriendship.org
Dev - dev@gardenoffriendhsip.org
Connie O. - connieo@gardenoffriendship.org

Thanks to everyone for all you do! I hope you all enjoy sharing the Birthday festivities we are planning and look forward to another year together.

Huggers,
Deelight

Webmistress
Garden Keeper
The Garden of Friendship
http://www.gardenoffriendship.org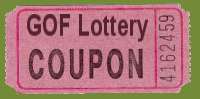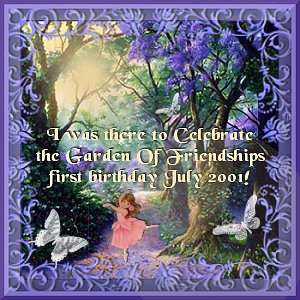 Right Click on the icon to adjust sounds.


The song playing on this page is

DANCES WITH WOLVES

Please do NOT link to any of the midis. I change the names frequently.
They are here for your listening pleasure and enjoyment
and are believed to be in the public domain.
All copyrights belong to their respective authors. 
This Song came from 60's Music, etc.

SHALOM FROM SPIKE & JAMIE
---
---
Join one of our Discussion Forums:
---
Free Newsletters:
We also publish two newsletters a couple of times a month.
To subscribe, send a blank email to the appropriate email address.
Topica will send you a message asking if you really intended to subscribe
- just click reply - that's it!
Free Recipe Collection Newsletter
freerecipes-subscribe@topica.com
Jewish Recipe Collection Newsletter
jewishrecipes-subscribe@topica.com
---
Click here to add our Web Site to your Favorites List:
---
Our Favorite Internet Search Engine:
www.google.com
---
---
Any problems with this page?
Send the URL of this page & a description
of the problem to webmaster.
Thank you!
---
Back to Spike's & Jamie's Recipe Collection
&nbsp
---
---
&nbsp
Tired of Geek Speak when
you have Computer Questions?
The Newbie Club -
Computer Information for the Rest of Us!
Your Own Domain Name
- $15 a Year
Watkins
- Superior Quality Products since 1869
---
JL Services Web Site Contracts:
The Winchester Bay House - Bed & Breakfast on the Oregon Coast
Events Management and Consulting - Got an Event? We'll manage it for you.
Timber Jamboree - Tugman State Park - Oregon
Spike's & Jamie's Recipe Collection
---
Disclaimer: These web site links are listed as a convenience to our visitors. If you use these links, we take no responsibility and give no guarantees, warranties or representations, implied or otherwise, for the content or accuracy of these third-party sites.
Due to the number of recipes and tips we receive, it is impossible for us to personally test each one and therefore we cannot guarantee its success. Please let us know if you find errors in any of them.

We do not endorse or recommend any recipes, tips, products or services listed in our ezines or on our web pages. You use them and their contents at your own risk and discretion. If you do not agree to these terms, please don't continue to use them. If you do use them, it means you agree to these terms.

Copyright notice - No infringement of any text or graphic copyright is intended. If you own the copyright to any original image or document used for the creation of the graphics or information on this site, please contact the Webmaster with all pertinent info so that proper credit can be given. If you wish to have it removed from the site, it will be replaced ASAP.
---
---
---