My Mother's Day Pages
Collections of Poetry, Graphics and other beautiful things for Mother's Day:
Garden of Friends Mother's Day Page Contest Entrants: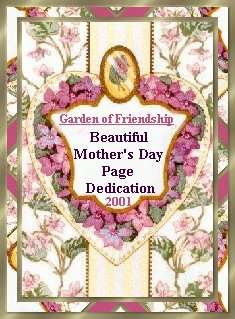 And the Winner is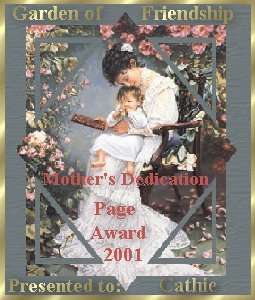 Gifts from Garden Friends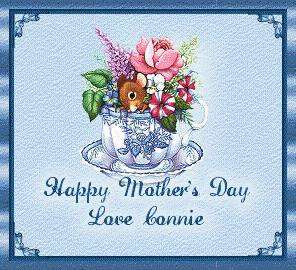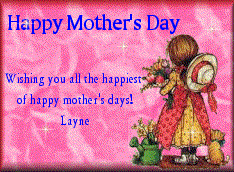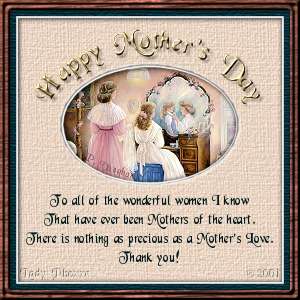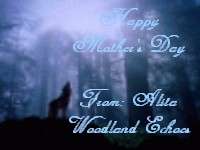 From Alita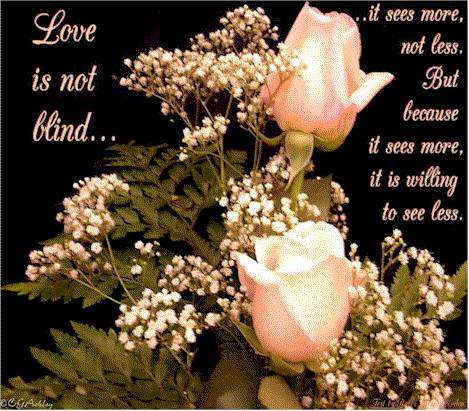 M is for music that eminates from your soul
O is for obedience even when frustration takes its toll
T is for time you take each and every day
H is for harmony you strive for when you pray
E is for enjoyment you derive from seeing them grow 
R is for rewards you get when you reap what you sow
S is for smiles that glow and a serenity that you know

That God loves you in more ways than even you can count 
That the love in your heart is more than any amount.   

I hope your Mother's Day is filled with love and a knowledge that mothers are one of the greatest gifts from God and that by rearing your children and loving them, you will be blessed beyond measure!

I just wanted to wish you all a happy Mother's Day and send you this poem I wrote for mothers.

Take Care,
Love,
Julia (Jewels Star)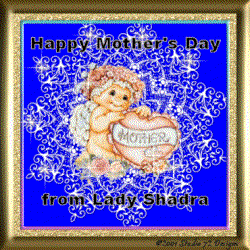 Thank you to everyone for the beautiful gifts and a very special, heartfelt thanks to Dee and Jamie who obviously worked very, very hard. Your efforts are so appreciated.

Much love,
Lady Shadra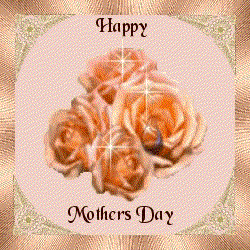 I would like to wish everyone a very Happy Mothers Day!
I would also like to thank everyone for such beautiful
gifts and to Dee and Jamie...I am speechless, thank
you from the bottom of my heart :) I know you must
have worked so hard to put it all together, it is just
awesome..you guys are the best!!!
Again thanks so much, I wish only the best for you all :)

Huggers, Dev :)




Happy Mother's Day to all my friends
Love,
Squeak


Special Mother's Day Pages to the Committee Leaders of G of F

Firstly, I would like to wish all our Mothers a Very Happy Mother's Day!!!

We also have created a page for all our Garden Keepers and Committee Leaders to wish them a Happy Mother's Day and extend a special thanks for all they do.

I want to extend a special thank you to Jamie for all the help she gave me with this page. 

Happy Mother's Day to you all!!!

Huggers,
Deelight
Thank you so much Dee and Jamie for taking the time and having the thoughtfulness to do the absolutely gorgeous pages for Garden Keepers and Committee Leaders. Although I am an Assistant Committee Leader and a new one at that, I am very touched and so appreciate being included in this beautiful tribute.

Garden friends, the time you spend to make people feel appreciated and loved never ceases to amaze me. I love you all. Happy Mother's Day!!!

Richelle

Happy Mothers Day to Everyone in the Garden
Thank you all for the lovely gifts, and a big thank you to Dee and Jamie for putting together the pages for us.
They are beautiful!!!
Love, Denise

Dee and Jamie - what a lot of work! But, I so appreciate the pages and all the beautiful gifts and poetry. Truly, we have a Garden of Friendship.

Connie O.
Garden of Friendship
Garden Keeper
SOC - CL
Causes - CL



Happy Mother's Day! 
Thank you for the beautiful page!

Hugs,
Lady Sunshine
CL GOF Banner Exchange Committee

**I'm not crazy, I've just been in a very bad mood for 31 years.**





Dee & Jamie:

:::Wavin' Hello At'Cha From Here:::  
< Big Smiles >
Just wanted to *ThankYou* both for the lovely pages & gifts. . . what a grrrrrrrrrrrrrrrrrrreat surprise !

*Hugs*

Lady Nickitta
Please Visit My Home:
Lady Nickitta's



And a Special Surprise for Deelight from her Friends
Dee,
We know that you have been working very hard on some gift pages. We also know that you have been doing it through a lot of pain. We just wanted you to know how much you mean to us and that we hope you have a wonderful Mother's Day.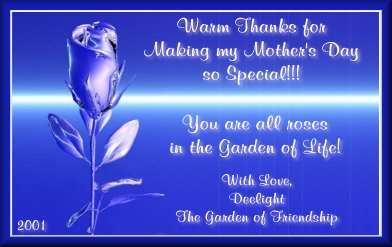 I can't begin to tell you how surprised I was when I received the Mother's Day page last night. It came as a total surprise!!!

Thank you all, and I hope you have enjoyed this Special Day!!!

Huggers,
Deelight