Jamie's Garden of Friendship Dedication Pages
[ Home ] [ Page One ] [ Garden of Friendship Activities Page ] [ G of F Charms Page ] [ Garden Gifts ] [ Happy First Birthday Garden of Friendship ] [ Happy 2nd Birthday - GOF! ] [ Special Friends ] [ Squeak's Ladies ] [ Portraits of IF25 Friends ] [ GOF Banner Exchange ] [ GOF Causes Page ] [ Web Rings ] [ Garden of Friendship Welcome Gifts ] [ GOF Awards Page 1 ] [ Surprise Angel's Gifts Page ] [ Whispering Angel ]
[ Up ] [ My Special Friend, Dee Nichols ] [ My Special Friend, Linda ] [ My Special Friend, Lucky ] [ Miss Dolly ] [ My Special Friend, Marilyn Cook ] [ My Special Friend, Grammy J ]
Jamie's Garden of Friendship Dedication Pages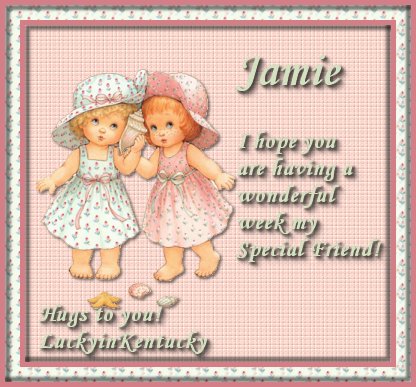 ----- Original Message -----
From: LuckyinKentucky
To: Jamie
Sent: Tuesday, September 24, 2002 7:46 PM
Subject: My Special Friend!


Hi Sweetie!

I hope you are having a wonderful week! :)

Here is a little something for you.

Lucky


From: LuckyinKentucky
To: Jamie
Subject: Highly Recommended by LuckyinKentucky GOF Special Friend
Date: Monday, September 16, 2002 1:54 PM

Hi,

LuckyinKentucky GOF Special Friend would like you to see this Web page:

Something You Deserve and A Little More
(By Flowgo)


To just visit the recommended page, click here:
http://www.flowgo.com/refer/redir.cfm?page_id=34135&d=09-16-02


================================================
LuckyinKentucky GOF Special Friend also included this note:
I am your Garden of Friendship special friend and I have something great just for you! Look for something every now and again and if you need anything, just holler!

Hugs!
LuckyinKentucky


Special Friend LuckyinKentucky would like you to see this Web page:

The BEST inspirational Pages

Special Friend LuckyinKentucky also included this note:

I hope ya'll are having a wonderful start to a beautiful week! :) Have a great one, my special friends. :)

LuckyinKentucky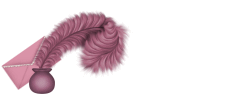 ----- Original Message -----
From: LuckyinKentucky
To: Jamie
Sent: Tuesday, October 22, 2002 1:50 PM
Subject: Here is your siggie!


I hope you like it. Your sig is the first one to look right! Mine took
like 47 frames because my nic is so long. Anyways, hope you like it my
Special Friend! ;)

Lucky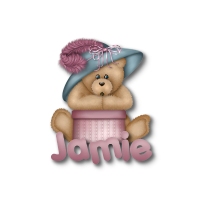 ----- Original Message -----

From: LuckyinKentucky

To: Jamie

Sent: Saturday, November 02, 2002 4:50 AM

Subject: A little something for my special Friend




I am a little addicted here, Jamie!

I hope you like it and have a great weekend!

Lucky

Friends are like rainbows.This I know.

Because each color stands alone,yet blends together from a distance.

As friends, we each have our own identities,but also have some similarities

We have lots in common that we like to do,and we have values and morals that are similar.

A rainbow makes you smile just as good friends do too.

From a distance you can spot a beautiful rainbow,just as you can spot good friends - us!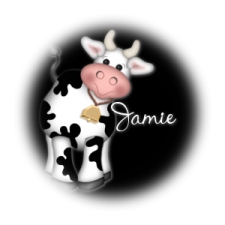 ----- Original Message -----
From: Lucky
To: Jamie
Sent: Tuesday, January 07, 2003 5:20 PM
Subject: Hi my Special Friends!


I hope you are having a Great New Year! I made a little something for you! I hope you like it. :)


Lucky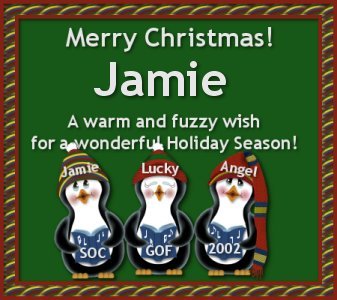 ----- Original Message -----
From: Lucky
To: Jamie
Sent: Saturday, December 21, 2002 6:36 AM
Subject: Merry Christmas Jamie!

I hope you have a beautiful Christmas! Thank
you for all your hard work in the SOC! :)

Lucky