Jamie's Garden of Friendship Dedication Pages
[ Home ] [ Page One ] [ Garden of Friendship Activities Page ] [ G of F Charms Page ] [ Garden Gifts ] [ Happy First Birthday Garden of Friendship ] [ Happy 2nd Birthday - GOF! ] [ Special Friends ] [ Squeak's Ladies ] [ Portraits of IF25 Friends ] [ GOF Banner Exchange ] [ GOF Causes Page ] [ Web Rings ] [ Garden of Friendship Welcome Gifts ] [ GOF Awards Page 1 ] [ Surprise Angel's Gifts Page ] [ Whispering Angel ]
[ Up ] [ GOF Awards Page 2 ] [ GOF Awards Page 3 ] [ Awards - Flower Garden ] [ Awards - Sweet Shoppe ]
Garden of Friendship Awards Page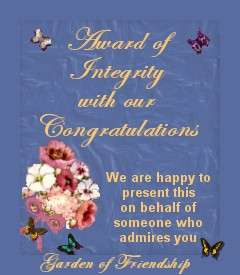 November 1, 2001
From Richelle
Grievance Committee Judge

The SOC held a contest for designing a background set
for the One-Stop Shoppe
January - February 2002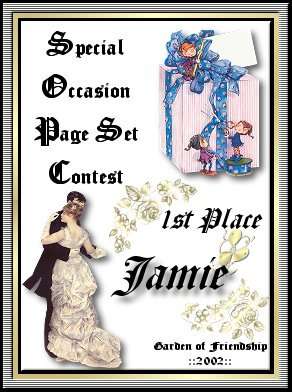 From: AngelsPath
To: <gof-specialoccasion@yahoogroups.com>
Subject: [gof-specialoccasion] And the Winner is...
Date: Wednesday, February 06, 2002 6:23 AM

I know you all have been waiting anxiously to see which set won the contest!

With all the votes in (and it was a close count), we are very pleased to congratulate Set #3.

Big Congratulations to our ACL~Jamie!

And special thanks to the others who participated !

Jamie, your award is attached and will be placed on our awards site.

As for the New One Stop Shop~ I promise to complete it by Friday! Thank you all~this has been fun!
Hugs, ACL~AngelsPath


----- Original Message -----
From: GK-Denise
To: Jamie
Sent: Monday, February 18, 2002 10:29 AM
Subject: Thank you!


Hi Jamie,

As the Garden Keeper working with the Special Occasion Committee, I want to thank you for all that you do. Our goal is to make people enjoy being members of the Garden, and it is members like you who help others enjoy being here.

I know you work hard to make the Special Occasion Committee what it is and I want to offer this small gift to show my appreciation.

Love,
Denise
Garden Keeper
The Garden of Friendship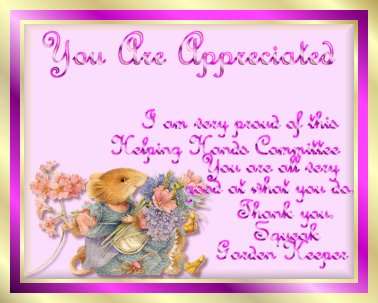 ----- Original Message -----
From: GK-Squeak
To: Jamie
Sent: Monday, February 18, 2002 3:12 PM
Subject: Gift


Hi Jamie,

As the Garden Keeper that works with the Helping Hands committee. I want to let you know that I am aware of you and your hard work and the dedication you give to this committee, and I really appreciate you. Our goal is to make people enjoy being members of the Garden, and it is members like you who help others enjoy being here. It is members like you who make all of us want to be here.

I would like to offer you a small gift, made by myself, to thank you for loving what you do, and for giving some of that love back to us.

Love,
Squeak
Garden Keeper, Helping Hands Committee
Garden of Friendship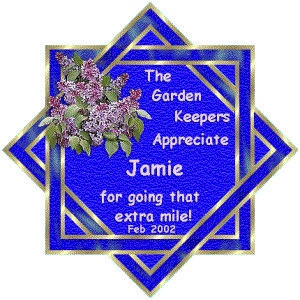 ----- Original Message -----
From: Garden of Friendship
To: Jamie
Cc: GK <gof-gardenkeepers@yahoogroups.com>
Sent: Monday, February 18, 2002 3:13 PM
Subject: Thank You


Jamie,

The Garden Keepers would like to extend to you our Special Thanks. You are a valued member of the Garden, and you are always going the extra mile, lending a hand and pitching in to help, whenever and where ever needed! We greatly appreciate the love and devotion you so generously give to the Garden and all it's members.

Thanks so much for all you do!

Love,

The Garden Keepers
Deelight - deelight@gardenoffriendship.org
Cathie - cathie@gardenoffriendship.org
Cheri - cheri@gardenoffriendship.org
Connie P. - conniep@gardenoffriendship.org
Denise - denise@gardenoffriendship.org
Mary - mary@gardenoffriendship.org
Richelle - richelle@gardenoffriendship.org
Squeak - squeak@gardenoffriendship.org
Stargazer - stargazer@gardenoffriendship.org
Valatine - val@gardenoffriendship.org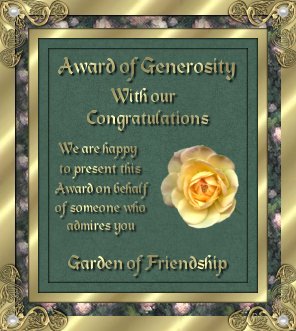 August 24, 2002
CONGRATULATIONS

Someone thinks you are a very special person and wants to present you with this special Award of Generosity.

Luckyinkentucky MichelleRussell wants you to check out this page:
GOF Award of Generosity
Luckyinkentucky - Michelle Russell's Message:
Thanks for all of the stuff you sent me! You are very Generous and are very deserving of this award!
Hugs! LuckyinKentucky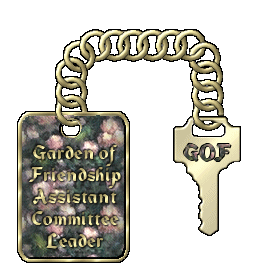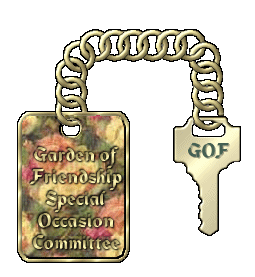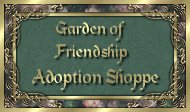 ----- Original Message -----
From: GK-Denise
To: Jamie
Sent: Saturday, June 01, 2002 8:16 PM
Subject: Hi Jamie


Hi Jamie,

I am just starting to make these for the SOC members. You get the first one. I hope it's okay with you that I used this graphic. I've been wanting to do something with it. I'm writing to everyone and tell them how much they are appreciated. I'm also adopting new key chains for them. I have this one for you and when the SOC one shows up, I'll get it for everyone.

Anyway, I think you know how much I appreciate you, but I want to tell you again. You are such a great ACL. Most of all though, you're a great friend!

Love, Denise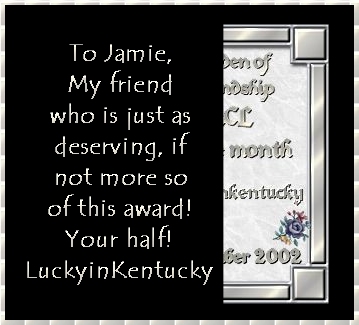 ----- Original Message -----
From: LuckyinKentucky
To: Soc-Leaders@Yahoogroups. Com <soc-leaders@yahoogroups.com>
Sent: Tuesday, September 03, 2002 4:20 PM
Subject: [soc-leaders] Your well-deserved half...


Just for you Jamie! Your half of my ACL of the Month Award - We couldn't do it without you.

----- Original Message -----
From: Grandma Lyn
To: Jamie
Sent: Tuesday, November 05, 2002 10:59 AM
Subject: Something for you :-)


Hi, Jamie,

Attached is a little gift of appreciation from me to you, for all the work you do for the Helping Hands Committee. I feel so lucky to have such a wonderful group of people on this committee that I know I can count on every week. Thank you so much for all you do!

Love and Hugs,
Grandma Lyn
CL, HH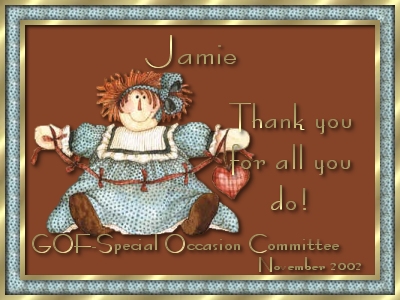 ----- Original Message -----
From: LuckyinKentucky
To: Jamie
Sent: Monday, November 04, 2002 3:50 PM
Subject: A little something for you!


I hope you like it! Thank you for all your hard work. :)

Lucky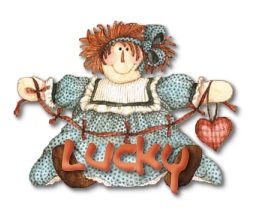 ----- Original Message -----
From: Cheryl ( aka ) Sugie
To: Jamie
Sent: Thursday, January 31, 2002 7:09 PM
Subject: For You :-)


I wanted to show my appreciation for all of your hard work.

Have a GREAT weekend ... :-)

PS - Hope you had a great birthday yesterday!!

Hugs, Sugie